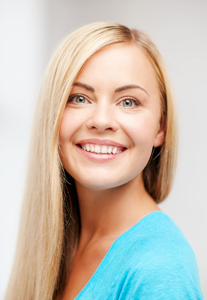 Many orthodontic treatment options are available at Saba Orthodontics to make the process easier and more pleasant. You no longer have to wear bulky metal appliances that interfere with daily activities. You can wear braces and smile without anyone knowing you are having your teeth straightened. MTM No•Trace lingual braces are one of the choices for invisible orthodontic correction.
The term "lingual braces" refers to an appliance installed on the back surface, or tongue side, of your teeth. The brackets and wires for your braces are attached to the back of the tooth surface. This method makes your dental work invisible when you talk or smile.
The smooth bracket system is designed to be comfortable for you to wear. Since the appliance is attached to the backside of each tooth, you're less likely to suffer injuries from common sports activities. Your braces will not make any contact with your lips or cheeks. Even with this advantage, a mouthguard should be worn to protect your teeth.
The letters MTM stand for Minor Tooth Movement. This system offers excellent results for teeth that have minor gaps and slight twisting or tilting. Lingual braces will also work in cases where a few teeth sit too low or high compared to the rest. If you have a large number of teeth that are severely crowded, twisted, or out of position, you may require a different treatment option.
Talk to Drs. Saba and Mina about the options that are available to you. Treatment is based on the amount of work you require. When your teeth need only a small amount of correction, MTM No•Trace lingual braces offer a fast and comfortable approach to a perfect smile.
To learn more about MTM No•Trace lingual braces, or to schedule an appointment with Drs. Saba and Mina, please give us a call at our convenient Washington DC, or Sterling office!